Anti-lockdown protests have broken out in Melbourne on Friday afternoon with hundreds attending
Police clashed with protesters and punches reportedly thrown at officers who deployed pepper spray
Melbourne has endured months of strict lockdown as COVID-19 case numbers brought under control
By BRETT LACKEY FOR DAILY MAIL AUSTRALIA and AUSTRALIAN ASSOCIATED PRESS
PUBLISHED: 01:23 EDT, 23 October 2020 | UPDATED: 19:14 EDT, 23 October 2020
A police horse has been attacked with a pole and punches were thrown at officers who retaliated with pepper spray during a wild anti-lockdown protest in Melbourne.
The 'Freedom Day' rally which began at the Shrine of Remembrance at 2pm Friday spread across the city centre, resulting in aggressive scuffles between police and demonstrators for more than three hours.
About 200 to 300 Melburnians turned out for the rally and walked through the streets chanting 'freedom' and calling for Premier Daniel Andrews to be sacked. Many refused to wear face masks.
A total of sixteen people were arrested and 61 protesters were fined.
Three police officers were injured during the skirmishes, with one taken to hospital as a precaution.
'Victoria Police will not accept the selfish behaviour of those who continue to breach the CHO (chief health officer) directions,' a police spokeswoman said.
The chaotic scenes were very different to what would usually be seen in the Victorian capital leading into an AFL Grand Final weekend.
CONTINUED AT LINK:
There may well come a day when the tipping point is reached. You can only govern with the consent of the governed. Andrews won't be the last to learn that. At that pont, best understood with the American revolution and the storming of the Bastille, regime change can come in the long drawn out struggle. We the people are free.
Feigning a pandemic or using outright force will not work in the long term. The people's ignorance about the power of the masses and natural justice are on an upward spiral. In time they will lose all fear and respect of authority. The catch phrase give me liberty or give me death will resonate in ttheir souls. They will prefer to die in the street battles rather than live without the liberty they took for granted. At that point a complete violent overthrow of the Andrews regime will occur.
The mob may well execute him and all officials oppressing the people. Duce reigned supreme in his day. Qadaffi, too, had an abrupt, violent end. It is a pattern of force and karma. Few leaders understand the dynamics of it. If they did, they would amend their ways. The people will not be mocked. They will be vindicated.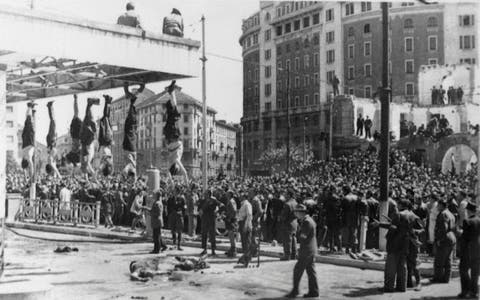 Italian dictator Benito Mussolini on the meat hook. His knowledge of history was as poor as his people's. That doesn't save you from its repetition however.